27 очаровательных собак, готовых встречать Рождество
(27 фото)
Каждый по-своему готовится к встрече Рождества. Атмосфера праздника и новогоднего веселья охватила не только нас, но и наших питомцев. Взгляните на этих очаровательных собак, нарядившихся к главному празднику года.
1. Кто еще может похвастаться такими нарядами?
2. Уже в наряде
I'm all ready for Santa to come! I think I'll just go ahead and sleep till Sunday morning • • • • • #christmas #xmas #xmastree #mail #noel #christmasdog #tistheseason #christmascards #snow #cute #photography #instapic #love #holiday #decor #xmaslights #lit #collie #card #nutcracker #books #collie #dog #dogstagram #dogsofinstagram #holiday #pinterest #travel #me A photo posted by Flynn The Rough Collie (@flynnsterthehipster) on Dec 21, 2016 at 12:03am PST
3. Кто-то предпочитает украсить себя мишурой
'Can someone tell mom that I am not the Christmas tree?' Man I love how chill Kes is about things! Not a care in the world having this crinkly shiny stuff wrapped all around her lol! #bestdogever #aussiesofinstagram #aussie #aussieshepherd #aussiedogs #aussiepup #aussiephotos #australianshepherd #australianshepherdsofig #australianshepherdpuppy #australianshepherdsofinstagram #australianshepherdworld #australianshepherd_feature #christmas #christmasdog #tree #christmastree #sunset #tinsel #bluemerle #bluemerleaussie A photo posted by @flyingkestrel on Dec 20, 2016 at 9:44pm PST
4. Встреча с Сантой
Just because I'm a bully doesn't mean I can't make the nice list. Because I did. A photo posted by Luigi Linguini Lucia (@luigi_linguini) on Dec 20, 2016 at 10:05pm PST
5. Стильная парочка
Merry Christmas everyone! We love you all #pharaohhound #nikonphotography #excellent_dogs #instadog #agriahund #petstagram #priimahundfoder #happydog #excellent_dog #weeklyfluff #faraohund #instadaily #christmasdog #love A photo posted by Antefa's Wasaruh Antefas Xerox (@allanpharaohhound) on Dec 21, 2016 at 12:36am PST
6. Все выглядывает оленей
Santa bieber & justin Holiday just start!! Yeah #bieber #minifoxie #holiday #christmasdog #doggy A photo posted by Soojin Park (@hqkr89) on Dec 20, 2016 at 10:41pm PST
7. А это Ромео в образе Санта-Клауса
Rockin' The Christmas Lights#yorkiemodel#yorkie#yorkielove#topyorkiemodel#yorkiedog#yorkietopmodel#sleepingdog#caninelovers#fluffydogs#instayorkie#ilovemyyorkie#yorkshireterrier#petpetcute#rockinromeo#christmasdog#christmasyorkie#rockinwithromeo#yorkieoftheday#yorkiemom#igyorkies#yorkiestar#santababy#santa A photo posted by Rockin' Romeo (@rockinwithromeo) on Dec 20, 2016 at 9:58pm PST
8. А это Бишон, и он знает, что вы мечтаете о нем
Hi all, Mom entered me in a photo contest! Please vote for me! Click the link! Or copy and paste into your browser! Merry Christmas! http://woobox.com/eib43c/gallery/-KIVA1BwS1Q #photocontest #bichonfriseofinstagram #christmastime #christmasdog #bichonfriseofinstagram #bichonlove #dogsofinstagram #dogs #dogswithmohawks #christmastree #mistletoe A photo posted by Preston (@preston_myers_the_bichon) on Dec 20, 2016 at 9:35pm PST
9. В праздничных очках
Merry Christmas from everyone at Dogzone. All of our beautiful Christmas photos are on FB and calendars will be ready for collection when we reopen on Mon 16 Jan. Have a safe festive season and see you all in 2017. #akita #akitainu #akitasofinstagram #christmasdog #richmond #dogdaycare #doggiedaycare #dogzone #dogz #dogs #dogstagram #dog #doggrooming #dogsofinsta #doggie #cute #cutedog #sunglasses #fluffydog A photo posted by Dogzone (@dogzonedaycare) on Dec 20, 2016 at 9:36pm PST
10. Немножко устал ждать
Thor is exhausted getting ready for Christmas! Thor is in the Christmas spirit! #greatdane#christmas##dane#christmasgreatdane#instadane#instagramdane#instagramgreatdane#merrychistmas#christmasdog#instagreatdane A photo posted by @thorthedane on Dec 16, 2014 at 6:19pm PST
11. В ожидании подарков
Penny's not a fan of the Santa hat #studiopetphotography #petphotography #scottsdalepetphotographer #willmodelfortreats #santahat #vizsla #vizslagram #vizslaproblems #vizslaprincess #vizslalove #vizslafun #vizsla_feature #holiday #christmas2016 #dogumented #dogphotography #dogster #puppylove #scarves #worldofcutepets #dogstergram #holidaycheer #dogscorner #dogumented #christmasdog #christmasdogsofinstagram #flashandhound A photo posted by Craig&Irene Amrine - V parents (@desertvizsla) on Dec 20, 2016 at 8:55pm PST
12. Как же без верных эльфов?
Christmas time, Christmas time #peepsthechiX #novathelabX #olliethepugX #dogfamily #furfamily #mythreedogs #meltsmyheart #christmas2016 #christmasdog #christmaspuppy #doggychristmas #dogchristmassuit #santahat #cutestpuppy #chihuahuasofinstagram #chihuahualife #doglife #chihuahuamix #rescuechihuahua #dogfamily #dogaccount #doglovers #dogstagram #dogofinstagram A photo posted by Ollie Peeps Nova (@mythreedogs_3) on Dec 20, 2016 at 8:59pm PST
13. Это Стелла и она умеет позировать
Ho Ho Ho #bostonterrier #bostonterriersofinstagram #christmasdog #bostonterrierlove #bosties_n_frenchies #smushface #dogsofinsta #merrychristmasyafilthyanimal A photo posted by Stella The Boston Terrier (@wholelottastella) on Dec 20, 2016 at 2:30pm PST
14. Счастливая мордочка
Mele Kalikimaka TOT A photo posted by Duke (@dukebeans) on Dec 20, 2016 at 8:22pm PST
15. Сам упаковал для вас подарки
Christmas is taking over.... #christmas #christmasdog #merrychristmas #presents #christmastree A photo posted by Katie Rosbrook (@katie_rosbrook) on Dec 20, 2016 at 7:28pm PST
16. Ждет рождественский ужин
#padme #instapadme #peshugula #mememe Padme: Waitress mom !! after my nap I'm starving can you bring me ,, or ,,???? and as a dessert ,,, and ... Thanks, hurry up please, I can't wait . Waitress mom : Aja sure ...something else ??!! #chihuahuapersonality #longhairchihuahua #chihuahuas #feature_my_chihuahua #groomingschool_com #collarbuddies #thatgreatdoglife #dogsaremytherapy #chihuahualove_feature #chihuahua_lovers_club #featuremydog #cutedog #mydogiscutest #dinnertime #blackandwhitedog #christmasdog #featuremychihuahua #pic_of_puppys #thecanineway #dailypawwoof #chihuahuaisland #dogoftheday #dogs #awhanimals A photo posted by ElsyLillyPadKCM (@padme_lsylillyk) on Dec 20, 2016 at 8:31pm PST
17. Готова показать праздничное выступление
Is barking considered naughty? #niceornotnice #thereisnotry #littlemissbarksalot #imtryingtobegood #arewedoneyetwoman A photo posted by @bella_and_mom on Dec 20, 2016 at 7:34pm PST
18. Редчайший вид эльфов
Indy the Christmas Elf #santashelper #christmasdog #merrychristmas A photo posted by Kim Looper (@mrsvermillionaire) on Dec 20, 2016 at 7:00pm PST
19. Соло, самый модный пес
If Santa needs another reindeer - I'm ready ‍️ #santa #santaclaus #reindeer #reindog #dogsofinstgram #dansksvenskgårdshund #danishswedishfarmdog #vimeddsg #christmas #funnyglasses #glasses #glitter #christmasdog #santaslittlehelper A photo posted by Solo (@solo.dog) on Dec 20, 2016 at 12:08pm PST
20. Хочет быть похожим на Санту
I have no problems going down chimneys if there are cookies waiting for me! #santa #cookies #chimney #christmas #holiday #santahat #frenchie #frenchies #frenchiesofinstagram #dogs #dog #bulldog #christmasdog A photo posted by Hank (@hank_the_pig_dog_and_friends) on Dec 20, 2016 at 7:00pm PST
21. А кто-то уже познакомился с ним
hard day at the office today; santa and I had some wishlist business to talk about. #santaclaus #santa #christmasdog A photo posted by Lambeau Field Alexander Lemos (@lambeausleap) on Dec 20, 2016 at 3:40pm PST
22. В праздничном венке
23. Как же ему идет этот свитер
24. Надеется стать главным оленем в упряжке Санты
25. Мистер и миссис Клаус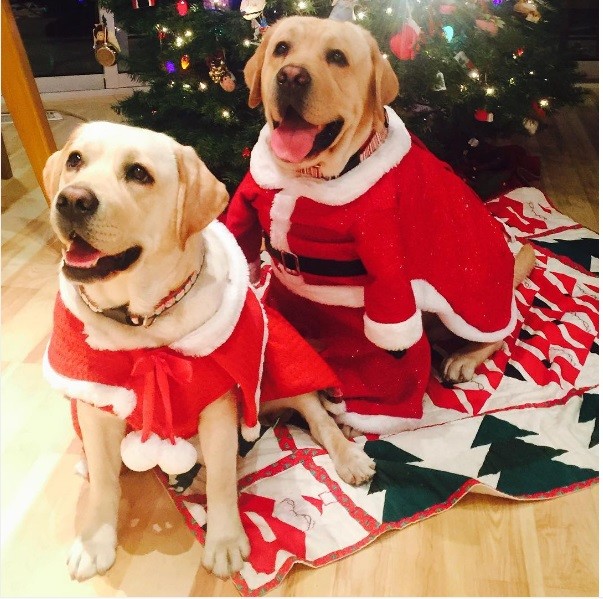 26. Улыбочку!
27. Счастливого Рождества!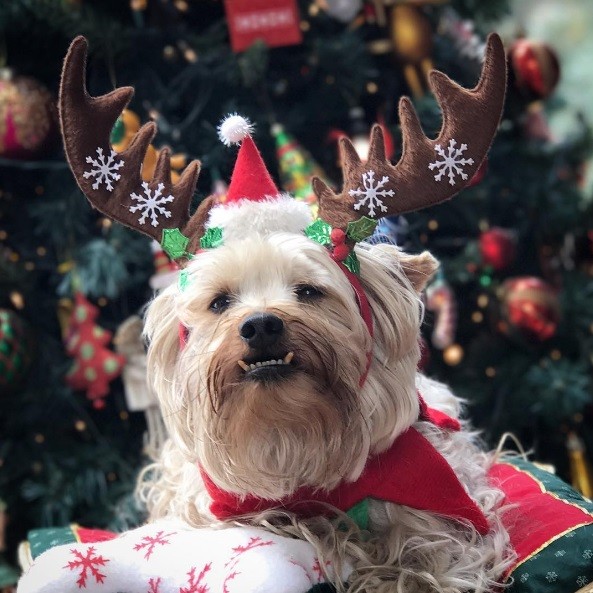 ← Жми «Нравится» и читай нас на Фейсбуке